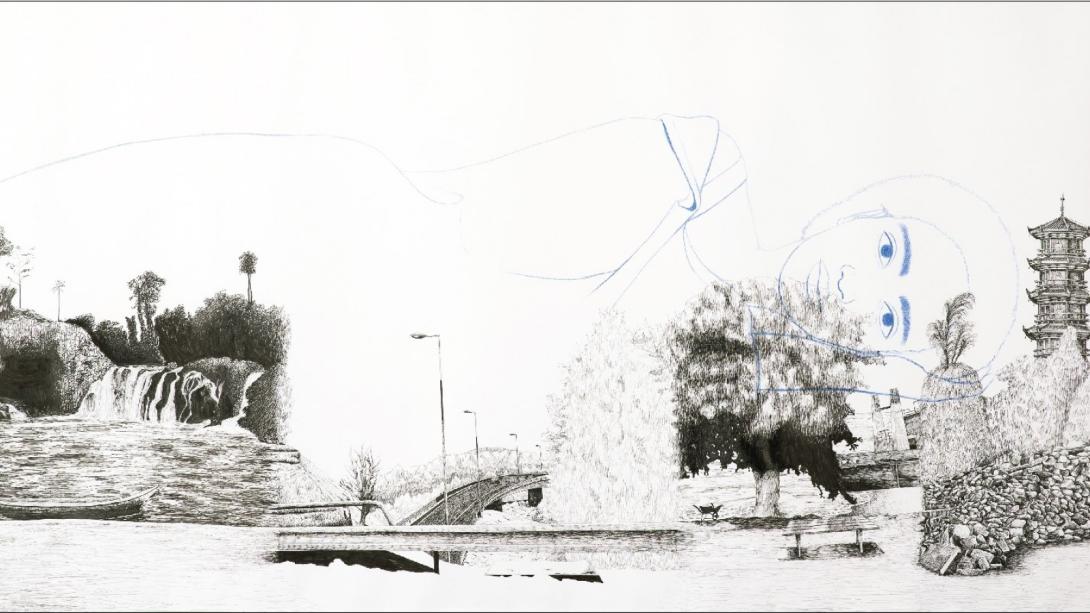 "Collective Transport" part 2: Common presence
On 27 / 09 / 2021
After a first part this spring consisting of a selection of artworks from the Societe Generale Art Collection and guest artists, the "Collective Transports" exhibition opens its second installment. Conceived by the independent curator Marie-Ann Yemsi* as well, it extends the dialogue between works from the Collection and pieces made by emerging artists. This time, it is about creating relationships between new acquisitions and artworks that have been part of the Collection for years already.

 
The world as home
In November 2020, the Societe Generale Art Collection launched a call for projects to the new graduates from the Beaux-Arts de Paris. Its theme was "The world as home," and its goal was to support young artists in circumstances that weigh notably heavily on culture. 14 laureates were picked by a jury presided by Frédéric Oudéa featuring members of Société Générale, Jean de Loisy, Marie-Ann Yemsi, and Guy Boyer, among more than 150 candidates. One or several of the artworks of the winners joined the Collection; they provide a rich and varied overview of tomorrow's art in the fields of painting, photography, graphic arts, and sculpture.   
 
A world that breathes
In its second chapter, "Collective Transport" brings together these artworks made by up-and-coming artists and artworks by seasoned creators such as Daniel Spoerri, Guy Tillim, Pierre Alechinsky, and Otobong Nkanga, tracing a rich constellation of shapes and stories. In the open course of the exhibition, a narrative leads to another and several join occasionally to form a beam of points of view revolving around the same mutating horizon, either dreamy and contemplative or speculative and critical. Echoes from a fragmented world ring throughout the exhibition, inspiring artworks that tackle some of the contemporary world's most pressing issues: growing vulnerability, injustice, inequality, systemic violence. The emergency seems to be the necessity to build a world that breathes socially and also environmentally. 
 
The upcoming world
Through the diversity of shapes and approaches combined in the exhibition, the aspiration to politics of attention and care extended to all forms of life – human, mineral, vegetal – prevails pervasively. A figure of resistance and resilience, the human entity is never insular, and the works presented highlight the shared destinies of all humans, integral to planet Earth's ecological future. In "Collective Transport," art is a living matter, a link between all things, and an infinity of ways to dream and build mixed destinies for the upcoming world. Since the cultural places are reopening, it is now possible to come, enjoy the artworks, and discover the exhibition on site. See you on the Collection's website to plan your visit!  
C. Perrin
> To see the exhibition: Societe Generale towers, 17 cours Valmy, 92800 Puteaux, from Monday to Friday, from 10:00 to 18:00 > Make reservations online on our Visit page * Marie-Ann Yemsi is an independent contemporary art consultant and curator. Born in Germany, she is a graduate in Political Sciences and lives and works in Paris. In 2005, she founded Agent Créatif(s), which has developed renowned expertise in cultural production and art consulting with a focus on contemporary artists from Africa and its diasporas. She was the Artistic Director of "Afrotopia", the 11th edition of the Rencontres de Bamako – African Biennale of Photography (2017), and she has been the curator at several international exhibitions, including "African Odysseys" at the Brass Cultural Center (Brussels) in 2015, "The Days that Comes" at the Galerie des Galeries (Paris) in 2017, "A Silent Line, Lives Here" at the Palais de Tokyo (Paris) in 2018, and "HAVE YOU SEEN A HORIZON LATELY?" at the MACAAL – Museum of African Contemporary Art Al Maaden (Marrakesh) in 2020. She is a guest curator at the Palais de Tokyo (Paris) for the collective exhibition "Ubuntu, a lucid dream" that will take place in fall 2021. 

List of the artists taking part in the exhibition: 
Pierre Alechinsky - Farah Atassi - Ymane Chabi-Gara - Bady Dalloul - Thomas Demand - Elsa & Johanna - Sophia Fassi - François-Xavier Gbré - Bilal Hamdad - Valérie Jouve - Nadav Kander - Prosper Legault - Lucas Leglise - Pascal Maitre - Didier Marcel - Léonard Martin - Mathieu Mercier - Chelsea Mortenson - Aurelie Nemours - Eva Nielsen - Otobong Nkanga - Lucie Picandet - Winnie Mo Rielly - Nicolas Roggy - Benjamin Sabatier - Antoine Schmitt - Jalal Sepehr - Daniel Spoerri- Georges Tony Stoll - Vivan Sundaram - Guy Tillim - Barthélémy Toguo - Laura Tolen - Gérard Traquandi - Guillaume Valenti - Justin Weiler - Katarzyna Wiesiolek  

Copyright : Laura Tolen, L'éveil, 2020, encre et crayons de couleur sur papier, 76 x 140 cm