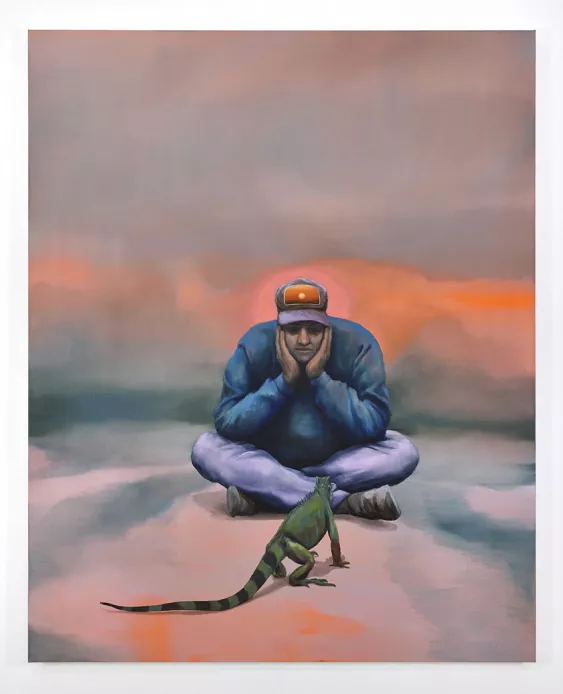 Zoom
Spirits Return
2020
Romain BERNINI
Painting
In Spirits Return, Romain Bernini paints a confrontation: sitting cross-legged and facing an iguana, a man looks half-fascinated, half-indifferent. "My inspirations are quite wide," explains the artist. "Its recurring principle is ecstasy. It can be found in the openness to the different other, emancipation, diversity, intermixture of cultures, rituals, dances… By 'other,' I of course also mean: animals, plants, everything that makes the world. […] Ever since my early childhood, I have a passion and great empathy for everything that is alive." In this dusky atmosphere where the sun sets on the logo of a cap, what is at stake is a potential, incongruous encounter between the urban and the wild. Forever unsolved, this troubling confrontation carries the split between a "great sharing" and the hope for dialogue.
Romain BERNINI
France
Né en 1979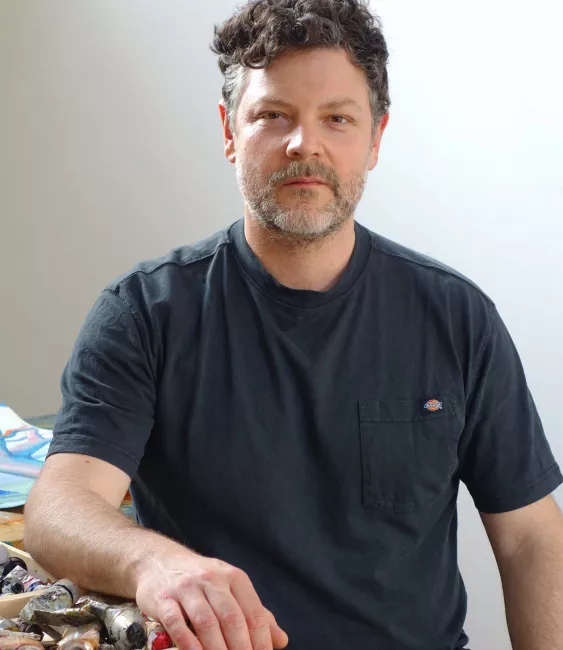 Born in 1979 in Montreuil, France.
Lives and works in Paris and Limousin, France.

Steeped in Colour Field painting, tribal arts, and psychedelic syncretism, Romain Bernini's paintings display strange universes mixing archaic and ultra-contemporary elements translating on the canvas into the aura of fugitive, rebellious, lonely, and rootless characters. Fantasy, the phantasmal, and the apocalyptic blend in with daily life through new age aesthetics rendering human beings, their inner world, and the society they wander in visible. In 2008, Romain Bernini, a graduate of the Sorbonne, was awarded the first prize Antoine Marin in painting and, in 2013, the Fondation Colas prize. His work is featured in important public collections such as the CNAP, the Frac Île-de-France, and the MAC VAL. A large tapestry of one of his works was weaved by the Cité Internationale de la Tapisserie of Aubusson.
Artworks of
Romain BERNINI

The visit of the Collection is open to you! Come alone, in a group or on a school outing !

Reservation is mandatory in order to offer you a guided tour, at La Défense or by videoconference.