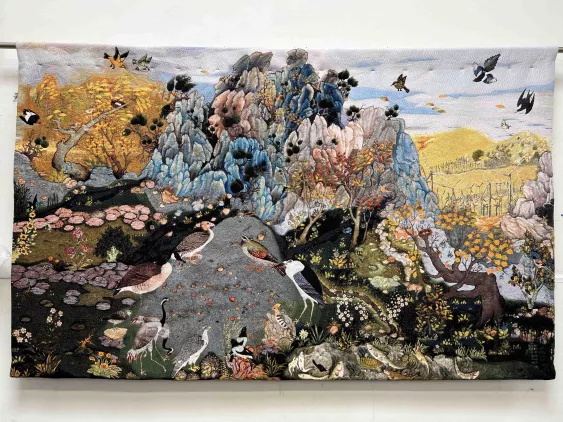 Zoom
Les oiseaux semant la vie
2022
Suzanne HUSKY
Painting
Les oiseaux semant la vie (The birds sowing life) paints the history of the pedogenesis told by agroecologist Hervé Coves, the story of the migratory birds carrying in their feathers and droppings the seeds, microorganisms, and spores that will amplify the ecosystems they cross. It is the story of humans following these corridors of life, the 1,000 founding myths about birds creating humanity: the stork bringing babies, Bennu, the sacred heron of Egyptian mythology, whose scream births all the other animals, or the strange mother goose of Perrault's tales. If Suzanne Husky uses media from handcraft, her creations are works of art and not decorative objects: their meaning is crucial and has to be taken into account. Her art talks about our times: if it is contemporary, it has to reflect its era.
Suzanne HUSKY
France
Né en 1976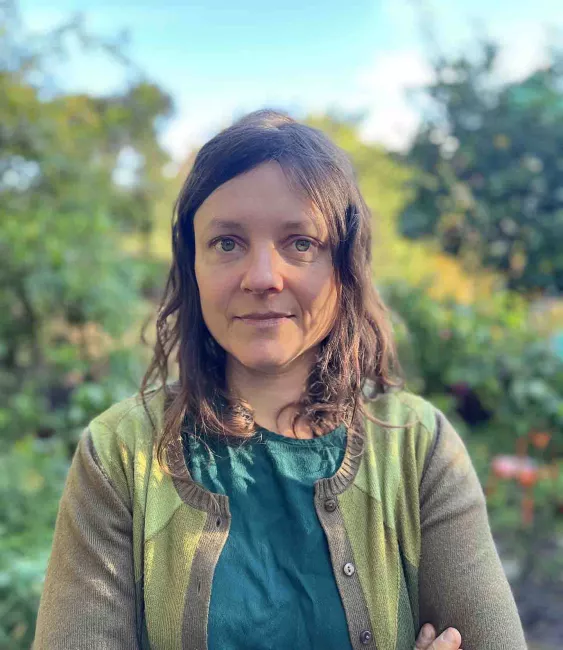 Born in 1976 in Bazas, France.
Lives and works in San Francisco, United States.

Taught by the earth, then about landscaping and agroecology, Suzanne Husky develops an artistic practice that looks at the different forms taken by the domination of life and their interconnections, and aims to be proactive. Her work takes many shapes. Ceramics, tapestry, carpets, and textile sculpture are a few of the media used by the artist: their common feature is that they are traditionally used for handcraft. Is it possible to "work with the earth" rather than fight against it? In 2016, Suzanne Husky creates with Stéphanie Sagot Le Nouveau Ministère de l'Agriculture (The New Ministry of Agriculture), a fictive institution aiming to reveal the absurdities of French agricultural politics and offering tangible solutions to get out of the extractivist take on society. Her work was presented at the FRAC Nouvelle-Aquitaine MÉCA in Bordeaux, the Museum of Modern Art in Warsaw, and the international airport of San Francisco.

The visit of the Collection is open to you! Come alone, in a group or on a school outing !

Reservation is mandatory in order to offer you a guided tour, at La Défense or by videoconference.