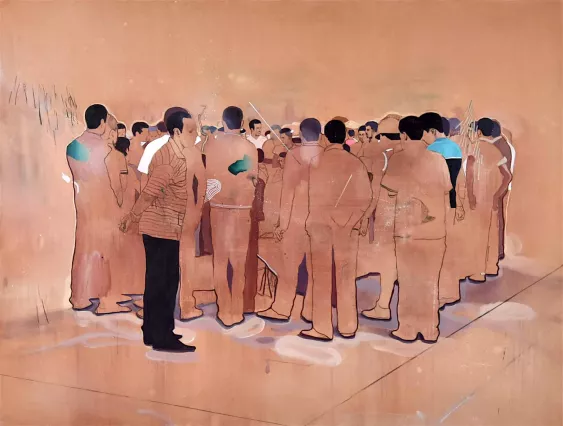 Zoom
La Foule IX
2016
Nabil EL MAKHLOUFI
Painting
130 x 170
A Surrealist, Symbolist, and skilled draughtsman, Nabil El Makhloufi combines colour planes with an ethereal brushwork giving his paintings a dream-like atmosphere where the border between realism and metaphor is blurred. Based on figuration, his artworks capture meditative moments of realities seen and experienced, where figures embody both alienation and a quiet nostalgia. In La Foule IX (The Crowd IX), a multitude of people crowd in an undetermined place. Pensive but not still, the characters are a presence both fragile and threatening. With its evanescent shapes and colours, the painting takes and imposes a suspended moment on its viewer.
Nabil EL MAKHLOUFI
Maroc
Né en 1973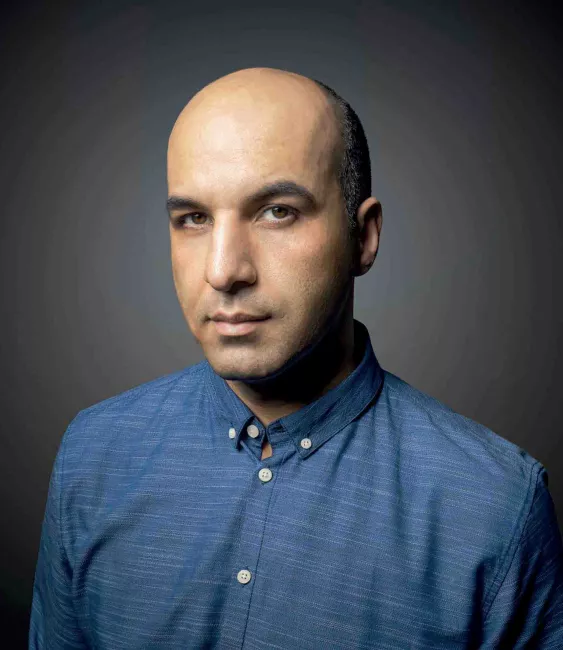 Born in 1973 in Fez, Morocco.
Lives and works in Leipzig, Germany.

After studying at the School of Art of Rabat in Morocco, Nabil El Makhloufi graduated from the Academy of Fine Arts of Leipzig, Germany. While remaining rooted in the culture of his country of birth, El Makhloufi's artworks feed from the culture and the soil where their author currently lives. By mixing his Moroccan roots with his life and work experiences in Europe, the artist gives a glimpse of the lives of the ones living in a permanent cultural in-between. His work was featured in solo and collective exhibitions in Frankfurt, Casablanca, London, Dakar, and Beirut, in the collections of institutions such as the Museum of Contemporary Art Al Maaden and the Banque Populaire in Morocco, and the BAT Campus Galerie Collection in Germany. In 2014, Nabil El Makhloufi was awarded the Cité des Arts prize in Paris.
Artwork of
Nabil EL MAKHLOUFI

The visit of the Collection is open to you! Come alone, in a group or on a school outing !

Reservation is mandatory in order to offer you a guided tour, at La Défense or by videoconference.